Thursday, April 03, 2008
Living for life

---
I still think it is amazing to watch how animals behave. There are distinct ways of telling when an animal is happy and when an animal is upset. While I don't think that animals experience emotions, per se, I do believe they experience euphoric states as well as states of fear. I love watching Lisa go about different things and just by watching her feathers and the position her crown is pointing, I almost instinctively know how she is feeling. I also know the reaction when I give Lisa her favorite egg crunch treat or I give Bacardi peanuts or I give Cracker, well, anything edible :)

I also think about the joy of seeing a newborn or seeing a child learn all of the amazing mysteries of this world. To a 2 year old a yoyo is an amazing thing and there is this desire to learn about the world - and we smile at watching that amazement. That same 2 year old doesn't understand that she shouldn't put the yoyo in her mouth. Eventually she grows up and learns that its wrong and figures out that she, too, can make a yoyo go up and down on her own and suddenly that amazing toy is now just a boring piece of plastic on a string.

What is it that turns something so exciting into something boring? Its the lack of wonder or mystery. With my birds I need to give them new toys and I need to confuse them so they have something entertaining to figure out - and one of the best ways to do this is to create foraging situations which is basically making them work for their food and figure out how to get it.

In almost all cases we will see an underlying need for survival in just about everything. The greatest sci fi and mystery films all have an aspect of a human surviving. Make a sci fi about someone that can't find an object (that's not crucial to their life) and you have a poor movie.

What is it that differs between us and animals? And does that difference mean we're better off or is it just something that simply makes us different. One of the fundamental differences is that Adam and Eve ate of the fruit of the tree of knowledge of good and evil. But why is it that this tree was the subject of a curse? Isn't that knowledge good to have?

Consider this. In the Bible sin is not based on laws in the new testament but on what is in someone's heart. Basically this means that if you don't know something is a sin then it really is not committing a sin if you do whatever it is. So one could come to the conclusion that if we didn't have the knowledge of good and evil then we obviously could not sin. And yes, this is why dogs can hump anything and still go to heaven. They don't need to be judged because there is no right or wrong to them. If Adam and Eve hadn't eaten the fruit then the result would be that permarital sex would not be a sin. The sex the human race would have would be completely different but it would still be euphoric.

So why is foraging such a great way to keep birds entertained? Simply because food is essential to life. When you hide food then they have a desire to find it because they need to survive. When they find it, it is euphoric. Sex is essential to life so when animals mate it is euphoric because it is carrying on the race. Seeing a newborn baby is euphoric because its our race continuing.

The problem that us humans have is that we are so confused by things going on because we now have a "logic center" that has to weigh the appropriateness of each situation before acting upon it and to further confuse that the same logic system is trained by those who came before us using their logic system. Every generation that goes by we get further and further away from who God intended us to be. I believe we were created very similar to animals in that we were not intended to have this logic system - we were intended to live for life. The simple things in life are what are supposed to make us happy. Simply surviving another day is meant to be exciting. Every generation that goes by we're seeing more and more distortment of what life is supposed to be. In today's world our logic systems are telling us that we need to do everything that our boss says no matter what because we can't survive without that job but we just end up living for our boss instead of life its self. We need to drive nice cars in order to be worth something and we need $100k salaries in order to "make it". All of these are the result of our twisted logic.

Most of the world no longer lives life for life. We regress more and more in life the more we progress in society. We are all losing the fact that we are all a team and the greatest way to survive is to work together instead of rising above others in order to survive. We see more and more acts of greed and we covet things more and more. We have truly lost what it means to live and yet we spend so much time figuring out the meaning of life - as we drive by someone stranded on the side of the road. Afterall, according to our logic system, our life can't continue if we don't hurry up and get to work to make money.

Our world is not going to get any better until we all start living life for life. If we can start to realize that survival is survival as the human race and that with that survival comes euphoria and happiness then we might have a shot at making this world a better place. We need to live life for life in general rather than just for our own lives..... This is where we find the meaning of life and become happier people.



Sent via BlackBerry from T-Mobile

Labels: ***, animals, birds, emotions, psychology, purpose


(C)2003-2008, Bob K Mertz - Some Rights Reserved
Monday, February 18, 2008
Lisa going outside

---
Today was a really beautiful day and I had recently got harnesses for each of my birds so I thought I'd attempt using at least one of them. I started with Cracker which didn't go so well. Surprisingly she really bite me hard at all - well at least considering she probably has the strongest beak of my 3 birds but its thankfully dull. I had it on her twice but couldn't get it adjusted right so I figured if let her relax. I brought Lisa into the living room and wow that went even less smooth. Fortunately I got it on her after about a half hour and after another 15 mins she was.... Well, tolerating it. We headed outside and she was real alert, of course. She really started relaxing and enjoying it. We went for about a 45 min walk. It was actually a really great afternoon. I took this picture which I absolutely love.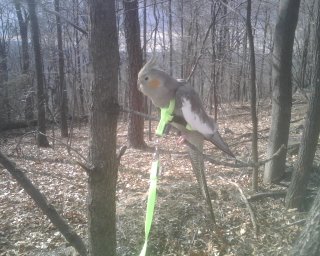 Labels: animals, birds, lisa, pets
(C)2003-2008, Bob K Mertz - Some Rights Reserved
Sunday, July 22, 2007
"I hate my life! I wish I was a [insert favorite animal here]"

How many times do you hear someone say that? Actually, how many times have *I* said that? As humans, we deal with so much crap that we don't want to deal with and I believe the truth is that God never intended it to be this way. There is a very important key to the story of Adam and Eve and that involves the name of the tree.

When God gave Adam and Eve the Garden of Eden, there was one tree that was called "The Tree of the Knowledge of Good and Evil" and they were told that they were forbidden to eat from the tree. Later, Eve was tempted and mankind fell. People interpret all of the pain we experience now as a result of the sin but I don't think that is entirely true. Oh, the sin does not help, but I believe the tree really was what God called it. If you ate from the tree you gained knowledge of good and evil.

So what is one of the largest differences between humans and animals? Animals run off of pure instinct. Animals have very large emotions at times but everything they do is the result of an instinct. They don't have moral reasoning. When you're training a dog, the dog does not respond to negative reinforcement because you hurt their feelings but rather that they associate the bad thing they did with the bad result. The more I learn about birds, the more I learn this concept. My quaker says a lot of different words and she says them in very humorous times in many cases.... but those words are not said out of reasoning but rather out of a situation. It's an association of the word and some kind of external stimuli that prompts that word to be said. Again, there is no reasoning and no thought of "hey, it would be really funny if I said this"....

If we combine these two concepts then we can understand why people say they would rather be an animal. We're being punished for our sinful nature out of the natural result of the sin. If a child touches a hot stove, they are naturally punished by being burned. The nature of eating of the fruit of that tree was that we now have this knowledge and moral reasoning that we were not initially intended to have. As a result, we have to deal with a lot more than just acting upon instinct. So if animals still act only upon instinct, it's only natural that we would want to be one of those animals that doesn't have to worry about moral reasoning. They don't have to wonder what the "correct" response is and how it might affect other people's feelings. As humans, we don't want this responsibility. The truly sad part about this is that we take on even more than we have to. We take it to the extreme and we transfer this into a model of weighing what other people think of us before we act.

Last night I was hanging out with a 1 year old and I was curbing fussiness by acting like a complete and total idiot in a very congested neighborhood. The happiness of that child was much more important to me than what other people (strangers) thought of me. Last night I was able to simply act without thinking of what anyone else thought of me. I erased that line that everyone so often prevents them from allowing them to do something that their nature and their instinct would have had them do. They miss out..... the same way I miss out all the times that I allow that line to stop me. I was rewarded last night by something that I couldn't have even began to expect. Out of nowhere I received one of the greatest hugs of my life. It may sound small but in this situation, it meant more to me than anyone can even begin to imagine. Nothing I did was working towards that hug -- but that is what made it so awesome.

There are a lot of trade offs to the fact that we now face moral judgement. We experience ups and downs. While it may be true that things would be less painful if Adam and Eve had never sinned, it also would mean that we wouldn't experience a lot of the amazing happiness that we now can. For one example, animals don't even enjoy sex -- oh, but we do! Because of our struggles, we gain great rewards and one of the reasons those rewards are so strong is simply because we had to work for them and we understand the opposite. We understand the pain and as a result, we can enjoy the happiness even more.

While there is a very evident sign of emotions inside many animals, it is not the same as what we, as humans, experience. The emotions that animals experience are based out of instinct. This doesn't mean that your dog or my birds don't want us around them or that they are not happy to see us but their base emotion is not what we know as love. While my birds are happy to see me and sad to see me leave, their instincts are greater. Bacardi has bit me quite a few times and it wasn't because he was out to attack me or because he wanted to hurt me but rather because he felt threatened for one reason or another. Animals are not able to have a self-less love for anyone else. It is only humans that are able to intentionally lay down their lives for a friend....

.... and it is that reason that selflessness and erasing the lines of "the way it is" is so important to our happiness. When we make a sacrifice for someone else we are rewarded by knowing that we have done something that most of the universe is incapable of. It's what makes us, as humans, unique... and that is what we search for most: Uniqueness.

Labels: ***, animals, emotional pain, emotions, friendship, sacrifice


(C)2003-2008, Bob K Mertz - Some Rights Reserved
Sunday, March 25, 2007
Tonight was horrible.... I was working at our Elden street store and I had a cockatiel out that was supposed to have had her wings clipped by the lady who sold her to us.... well, I didnt really get good feelings about that lady but that's beside the point.... I was giving this cockatiel some attention and next thing you know she is flying around the store like crazy. Once we got her, I figured her wings needed clipped.... when I looked at her wings it was obvious that they had already been clipped but not done properly.... I clipped her one wing with no issues at all.... then moved the other one.... she freaked out and my heart sunk.... her other wing was blood feathers..... I just wanted to cry.... For about the next half hour I had to hold her still while holding a paper towel on her wing.... it was one of the most horrible things I've had to do in a while.... After that I watched her for a little bit and eventually she decided to flutter her wings.... all of a sudden blood went everywhere.... finally I called Jay (my manager at the other store -- a very knowledgeable bird person) and he came over to take a look.... she's doing just fine and it really isnt something incredibly drastic and it is something that you can sometimes get confused with --- but I still feel horrible.... She really is an incredibly sweet bird tho.... even after all the trauma she still wanted me to pet her and give her attention.

.... now if I could only find a human that would want the same
(C)2003-2008, Bob K Mertz - Some Rights Reserved
Thursday, March 15, 2007
"Love cannot endure indifference. It needs to be wanted. Like a lamp, it needs to be fed out of the oil of another's heart, or its flame burns low."

- Henry Ward Beecher



Tonight we were watching House and Lisa was hanging out on the back of the couch where she likes to be so she can look at everything going on.... tonight she did something that really made me smile.... after being on the back of the couch for a while she crawled down to sit on my shoulder.... which wasn't an easy task for her but she really wanted to be on my shoulder. Not only was it really cool that she wanted to be on my shoulder but that it was something she wanted bad enough to actually work for.

Recently I have really been thinking about a lot of things.... ok, well, I am always thinking about things... but specifically I have been thinking about relationships. Relationships aren't easy and I believe they are designed that way because if everything was easy, we'd have no way of showing what we truly desire. If the slightest bump comes along in a relationship and someone just gives up, then it wasn't a relationship that they truly desired.... If a relationship really is worth something to you, then the hardest struggle that comes along can not keep you from fighting for what you truly desire..... If someone is worth enough to you, then you do all you can to be with that person. You do this because they are something that you truly want.

Love can not be just a breeze because if it is, then there really is no point to it. You can't love someone without truly wanting to be with them or talk to them or at least do something to help them... there is always a want or a desire before love can be born... if you have love without a want or a desire, then it's most likely just a passing thing. You want someone because they have something to offer.... and in the most amazing relationships they have something that only you want.... something that sometimes can't even be explained.

Recently my struggle has been with what it is that I have to offer someone. I love my job for a reason -- because I have knowledge of fish to offer to people. I talk to people every day about what is the best tank set up and what is best for their fish.... And people tell me they come back to our store because they can tell there is a passion behind what I tell them.... and they are right because I do have a real passion for fish. I also have a passion for seeing new technology implemented for people who are really helping others.... and I guess that's why one of the most important things I do is something I do for free -- volunteer at New Life. It's a passion of mine because I know that I am helping people that are really out there ministering to people that are hurting.

But you ask what the struggle is? Simply -- what do I have to offer anyone in a relationship? People can tell me all they want that I'm attractive or that I'm an awesome person to be around but when that ends with those words and there is no desire then what's it really worth? The craziest thing is that the only times that I feel attractive are when people are trying to put me down. Just a little bit ago I posted the comments to a fark post where people really did a lot of putting me down... the truth is that those comments only made me stronger and feel better about myself..... It's a hard thing to explain but it is true.... but I still am left with the question of what do I actually have to offer someone in either a romantic relationship or even just in a friendship? The truth is that I may never really believe that I do have something to offer until someone makes the journey and really fights to be with me. If I'm worth taking risks for I don't want to just hear that I'm worth taking risks for -- I want someone to take those risks.

Labels: ***, animals, desire, friendship, love, relationships


(C)2003-2008, Bob K Mertz - Some Rights Reserved
Thursday, February 01, 2007
""Animals don't care if you can't have small talk about the weather," she says. "There's just not as much anxiety as there is with human interactions, so you can really connect.""

I'm finding myself more and more of a pet lover which is to be expected since I work at a pet store.... but there are some things going on in my head that's kind of questioning some things. I watch people come in to the store and spend lots of money on their pets.... heck, I do it myself.... Sometimes I wonder if Lisa is spoiled.... and at the same time, I wonder if Lisa is the replacement for something that I don't have in the human world....

I see how much the pet industry has grown and how much of a business it is.... and it is an honorable business -- at least as long as your respectable in the caring of the animals rather than a pure focus of making money. At the same time, there is no secret that our world is in a moral decay.... hurting people left and right.... broken friendships and relationships.... Maybe this explains the stereo typical "cat lady" who is a single woman who has no one around there except lots of cats....

The quote above is from an article in Psychology Today about Asperger's. It's basically a form of autism but I think what is really interesting is that people with Asperger's drift away from many "normal" scenarios simply because no one understands them and they fear being mocked -- often times, it's a learned response from people actually mocking the person. The thing that I find most interesting about Asperger's is that a lot of the symptoms paint a vivid picture of things that I think everyone is experiencing... and, at the same time, I recognize a lot of symptoms in my own brain that I think may be things that most people don't portray. Interestingly enough, many symptoms bleed into the ADHD classification.

When God created man, He decided that man needed a suitable helper.... God created the need for friendships and He made us emotional beings who long for and need interaction with others. In today's world, we keep taking more and more focus off of people and putting it on things that really will not matter that much.... ultimately, we even take the focus off of ourselves and, before you know it, we are all caught up in how much money we're making or raising and how well we have done or how well our companies have done. Even those who make or raise money to help others seem to lose sight of who they are working for....

I think it's quite interesting that before God created woman, he brought all of the other species before Adam and found that none of them were suitable for him.... This means that the dogs, cats, birds, fish, etc that God brought before Adam do not Biblically meet our needs as companions. They *ARE* great companions and there is a lot of research that shows that pets are healthy to have.... but the important thing is that we do not REPLACE human interaction with our pets.

.... It kind of makes me wonder if God has me in a pet store because it's a great collaboration of people who need help -- and people that I can connect with?

Article Referenced: The Girl With a Boys Brain - Psychology Today
http://www.psychologytoday.com/rss/pto-20061103-000002.html

Labels: ***, animals, aspergers, autism, companionship, emotions, pets, relationships


(C)2003-2008, Bob K Mertz - Some Rights Reserved
(C)2008, Bob K Mertz - Some Rights Reserved



BibleBoy's Blog

by

Bob K Mertz

is licensed under a Creative Commons Attribution-Noncommercial-Share Alike 3.0 United States License.